So me and Francisco decide to tackle telescope peak on the weekend of May 17th-18th. We started driving off towards Magohany Flat campground where the trail head begins at 8133ft at 9pm friday night. While driving, Francisco mixes up the direction and we ended up driving 50 miles in the wrong direction. Thanks to my handy Black Berry with google maps we were able to get back on track without having to back track. Though we still lost about an hour of road time it could have been worse if we would have backed tracked and lost two hours. On the way the the camp ground I was getting very bored, and Francisco was already sleeping so I figure it would be a good time to start snapping some photographs.
Here is a picture of the road leading towards Magohany Flat campground.

After driving for a bit, I see a field with abandoned junk, so I figure it would be a perfect time to stretch out my legs and snap up a few more pictures.
About 4 miles from the camp ground, we get a FLAT!! I run over a piece of metal, looked like an L bracket with a sharpened tip. It looks like it has no real use besides puncturing tires. Didn't look like it fell off of anything, but rather some ass hole just made them and dropped them off on the road. I was lucky enough to have purchased a can of Fix Flat before making the trip so we just pulled off the piece of metal, filled up the tire and we were back on our way.
So after a long drive, we arrive at the Magohany Flat campground at 6:15am watching the sun rise. I take a 30 minute nap, then wake up around 6:45 eat some breakfast which consisted of two slices of bread, two bananas and an orange. After breakfast we prep our Bags and we are ready to hit the trail!
After about 3 hours, we begin to hit some snow, so we knew we are close.
After our long hike, we get to the peak. Here I jump for joy and sign the register. The one interesting thing that happened at the peak was, there was TONS of LADY BUGS!! I mean they were everywhere! You can see below for yourself.
So after snapping up a few pictures at the peak and signing the register it was time to setup camp.
Once our home was setup for the night, we had some dinner and watched the sun set.
After watching the sunset I wait till night, then snap up a few more pictures then get some much needed shut eye. I've up for about 41 hours strait at the point.
I wake up around 5:45 to catch the sun rising over Mount Whitney.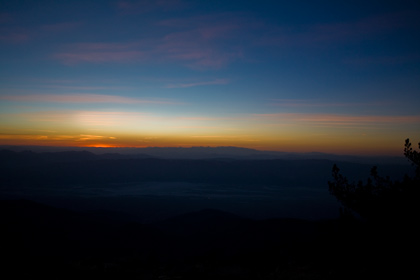 We eat some breakfast and begin to head back down to our car. On the trail back I see some caterpillars so I snap a few pictures.
Once we get to our car, the tire which was punctured on the way up was flat again. The can of Fix Flat and very little left so we put in the remainder which was not enough to inflate the tire. So I begin to wonder the campsite in hope of someone who might have an air pump which I could barrow. I guess luck was on my side, after searching the whole camp site, which was empty the last spot had an older couple there. Just my luck they also had an air pump! Once I got the air pump me and Francisco pump up the tire an it seemed to have held up fine. I guess the remained of the fix flat was enough to plug up the hole. Once the tire was fully inflated I go and return the pump and we were on our way!
After checking the tire after 10 miles, it seemed to have been holding up fine, so we get a bit adventurous and to go an old ghost town to snap up a few pictures.
When we finish snapping up pictures in 100+ degree F weather be begin to head back home. On the way home, we pass by a city named Ridge Crest which has an interesting sign. Turns out this city is the sister city of Tepatitlan Jalscio Mexico which is a neighbor city to Mezcala Mexico where my Mother was born and raised. Small world.
We arrive home safely the sunday, and plan on go back on a new moon so I can get some nice shots of the stars.