My Trip to Havasupai village in AZ starts off on Friday night 02/15/08. The gang, Me, Carlos, Claudia (Sister), Paco, Yohanna begin our journey from Los Angeles. It takes us about 9 hours to get to the hilltop. We arrive around 6am.

Carlos our conductor drove us there safely. I was suppose to stay up and keep him company but even after 4 cups of coffee I dose off for about half an hour to an hour. Once we get to our destination, thats when this our journey begins.


Once we've got about an hour of sleep, we being to prepare for the 10 mile hike to our camp site.
[2]
[3]
Here we are ready to tackle the hike.
[4]
We take a look at our trail, then head on down.
[5]
[6]
After about an hour of hiking, the sun comes out pretty strong and begins to warm us up, at the beginning of the hike it was about 30 degrees F. Once the sun started beating down we decided it was time to loose some of our clothing.
[7]
We were passed by the local mail.
[8]
The trail is full of beautiful sites, they might be overlooked if your to busy concentrating on getting to your destination.
[9]
[10]
[11]
[12]
Make sure to be on the look out for falling boulders on the trail.
[13]
Once we seen the sign for the village we knew we are on the right track, of course Fransisco had to stop and pose for a picture.
[14]
[15]
Once we began to see water on the side of the trail, we knew were getting close to the village.
[16]
After about another 1/2 mile we began to enter the village.
[17]
Once we get to the registration office, we wait for the registration people to come back from there lunch break.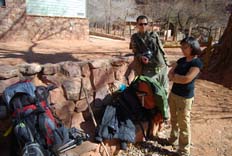 [18]
[19]
Once our permits are in order we begin to hike the remain 2.2 miles to the campsite. On the way to the campsite we see the water that leads to Navajo Falls and decide to take some pictures.
[20]
[21]
We continue on our hike to the campsite, once we go accross the creek that leads to Havasu Falls we begin to get excited. I start hiking faster, and after a hundred feet or so I am reward with the most spectator water fall I have ever seen!
[22]
[23]
[24]
[25]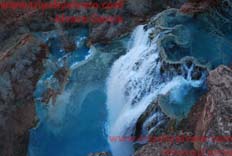 [26]
After we taking a few pictures, we call it a night. We setup our campsite have our dinner and go to sleep at a late 7pm.
The next morning we wake up, have our breakfast and head off to Mooney Falls!
[27]
[28]
After a scary climb down the side of the canyon to get the the bottom of Mooney falls we proceed to Beaver Falls. If you look closely, you can see the chains from which you hang for dear life as you climb down.
[29]
On the way to beaver falls we run across an abandon mine.
[30]
We continue on to Beaver falls, and run across a problem. We have to cross the creek, but being winter and the water being cold with no change of shoes or socks, we get stuck. Claudia and Carlos think of crossing the creek, but later chicken out.
[31]
After that, we decide its time for lunch. My lunch consisted of nuts and beef jerky. Here is a view from the spot we had lunch from.
[32]
[33]
After our lunch we decide it time to head back up.
[34]
[35]
[36]
Once back at our campsite we figured there was still plenty of day light out to make a hike into the village to hit up the cafe for some dinner. So we head off.
[37]
After our burger and fries we head back to our camp site, we take a little detour from the main trail and find some pretty nice views of the creek.
[38]
[39]
We hang out at our camp site till night fall, then me can Carlos decide its time to take some night shots of Havasu Falls.
[40]
[41]
[42]
[43]
Once we finish taking our night shots, we head back to our campsite for our final night.
We wake up early in the morning, have our breakfast and begin our hike back to the village were we will get a helicopter ride back to the hilltop.
Once at the village we hung around for about and hour, talking to some locals and buying some snacks at the local general store. The local people are very friendly, and always exchanging smiles.
While waiting, we once again see the local mail pass us by.
[44]
We soon began to hear the sound of the helicopter coming close, we get ready and head into the chopper and head off to the hill top.
This was my first helicopter ride, so I was both excited and nervous. Once we were in the air, my excitement took over and was giggling like a girl.
[45]
[46]
[47]
Once we arrive at the hilltop, we load up our packs into the car and head home.
[48]
That was the end of our Havasupai trip. Now I can't wait for my next big hike, TELESCOPE PEAK!! Make sure the check out
video of the trip.
[49]