When we arrived in Thailand we were greeted by tour guide Nana. Once we had everything settled in our hotel room in Chiang Mai we went out to explore the city and find something to eat.
After exploring the city a bit we were suckered into taking a tuk tuk ride by a tuk tuk driver named "Boy". Boy took us to local Thai Restaurant were we ate shrimp and crab in coconut milk.
After our dinner, we head over to check out some temples.
After checking out the city, and some temples we decided its time to head back to the hotel and get some much need shut eye.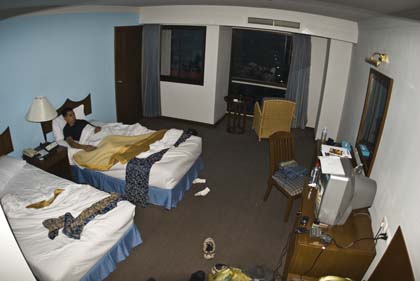 March 30th, 2008
Once waking up on our second day, March 30th 2008, we ate some breakfast at our hotel and then head off to the Wat Phrathat Doi Suthep temple. On the way to the temple we pass by a group of young monks having some kind of ceremony. What really caught my attenchen was that there was an ELEPHANT! This my second time ever seeing an elephant, first time was at LA Zoo so this was pretty amazing, but this wouldn't be that last elephant I would see on this trip.
Once we get to Wat Phrathat Doi Suthep temple I see the famous White elephant shrine.
The story of the white elephant is:
"According to legend, a monk named Sumanathera from Sukhothai had a dream; in this dream god told him to go to Pang Cha and look for a relic. Sumanathera ventured to Pang Cha and is said to have found a bone, which many claim was Buddha's shoulder bone. The relic displayed magical powers; it glowed, it was able to vanish, it could move itself and replicate itself. Sumanathera took the relic to King Dharmmaraja who ruled the Sukhothai.

The eager Dharmmaraja made offerings and hosted a ceremony when Sumanathera arrived. However the relic displayed no abnormal characteristics, and the king, doubtful of the relic's authenticity, told Sumanathera to keep it.

However, King Nu Naone of the Lanna Kingdom heard of the relic and offered the monk to take it to him instead. In 1368 with Dharmmaraja's permission, Sumanathera took the relic to what is now Lamphun, in northern Thailand. The relic apparently split in two, one piece was the same size, the other was smaller than the original. The smaller piece of the relic was enshrined at a temple in Suandok. The other piece was placed by the King on the back of a white elephant which was released in the jungle. The elephant is said to have climbed up Doi Suthep, at the time called Doi Aoy Chang (Sugar Elephant Mountain), trumpeted three times before dying at the site. It was interpreted as a sign and King Nu Naone ordered the construction of a temple at the site."


Here are some of my favorite pictures taken at the Wat Phrathat Doi Suthep Temple:
After visiting the temples its time for lunch. We have lunch at a nice little restaurant with a beautiful scenery. We enjoy our food along with our ice cold Singha Thai beer.
The view from our table.
After finishing our lunch, we explore the restaurant and snap a few more pictures.
Once were done with lunch, we head over to an umbrella making factory.
At this factory, they have workers who draw on items, usually clothing but I decided to be a little adventures and have them paint the lens hood of my 70-300mm VR Nikkor lens.
Now that I have my painted lens hood, which I must say turned out pretty good and makes a great souvenir, we head back to the hotel. We did check out the night market. I bought a two candles. I lowed balled the guy pretty good, feel kinda bad because he looked pretty sad. They were hand made by him so I guess he felt bad that he ended up selling them for about 1/2 of his asking price. Sorry no pictures of the night market. Though one thing that was interesting, they had a little shop selling all kinds of fried bugs. I must admit, me and Francisco were pretty lame and not going out at night, we only check out the night market. We figured we'd go back to the hotel change and hit up the local bars, but that didn't go to well as soon as we got into the hotel we laid on our beds and the next thing you know we were out cold sleeping like babies.
March 30th, 2008
Today we go to the Elphant camp. I must say I was pretty excited to go see elephants and think today was the highlight of my trip
The elephants give us a warm welcome.
The elephants hang around while people are feeding them and riding them. I first got onto a baby elephant.
After going on the baby elephant, figure it was time to setup it up and get on top of a full grown elephant.
As you can see, I had the biggest grin on my face!
After the elephants hung around, they go into the river and bath.
Once they finish bathing, they play a bit of soccer, play around, and then beging to paint.
You can see what was on one elephants mind.
Once its time for lunch, we head over to a flower / butterfly farm and resturant. Me and Francisco tried to get a butterfly while gliding, after many failed attemps we just snap up a few pictures then have some lunch.
Here is a picture of a pretty cool looking lizard I spoted while leaving the resturant.
After lunch we head over to a wood carving shop. I must say these pictures don't do the carvings justice. The carvings are just spectular.
We then head back to the hotel, once there we go for a swim. Me and Francisco had planed to get a massage tonight. We figure will rest a bit in the hotel room since its still early out and we were pretty exhuasted. The next thing I remember is waking up at 2 am. Fuck! Francisco was out cold, and we missed out on our massage. Oh well, thats all for day three.
Day for four coming soon..